Private lessons (1 on 1)
High Jump Technique and Long / Triple Jump Technique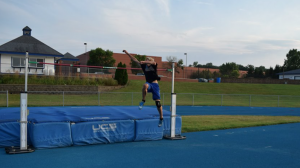 Private coaching is available for the athletes that are seeking more personal attention in the following events: High jump, long jump and triple jump. All sessions will be video taped.
The coaches: Hugo Munoz, a two-time Olympian in the high jump and holder of the Peruvian national high jump record – 7'6 1/2." (2.30mts) and Daniella Munoz, member of the Peruvian National Team for the following international competitions in 2019: South American Championships in Lima, Peru, South American Championships U20 in Cali, Colombia and PanAmerican Championships U20 in San Jose, Costa Rica. They both will be doing the lesson (ratio 2-1).
Cost per session:
$100 session / 45min to 1 hour

Location: 18919 Hopfe Rd. Hockley, TX 77447 (by Cypress)
For more information or to schedule a session please e-mail us at kangarooathletics@gmail[dot]com or call us (952)292-8226
All 1 on 1 lessons must be registered and paid for in advance through PayPal and are non refundable (including a no show by the athlete). Rescheduling is only an option due to lighting or bad weather. Only athletes are allowed in the jumps area. No pictures or videos (absolutely no cameras, phones, iPads, computers pointing to the jumps area). We videotape all sessions and post them online for the athletes to see.

NOTE: DUE TO HIGH DEMAND AND TIME AVAILABILITY, PRIVATE LESSONS ARE MOSTLY AVAILABLE DURING THE WEEK (MONDAY THROUGH FRIDAY) AND SOME WEEKENDS (NO PRIVATE LESSONS THE WEEKENDS WHEN CAMPS ARE OFFERED). FOR HIGH JUMP CAMP INSTRUCTION PLEASE VISIT THE HJ CAMPS LINK AND FOR LONG AND TRIPLE JUMP CAMP INSTRUCTION PLEASE VISIT THE LJ/TJ CAMPS LINK.
For high jump camps, long jump camps and triple jump camps, video analysis and high jump festival please go to the following links or contact us by email kangarooathletics@gmail[dot]com or call us at (952)292-8226