Our jumping coaches are Olympians, world class athletes and former D1 college coaches.
We do not hire assistants to work with the athletes, we work in small groups and 1 on 1. The listed coach for the camp is in front of the athletes at all times and is the only one doing the instruction.

Coach and Founder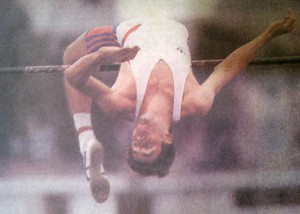 Hugo Munoz | High Jump Coach
Hugo Munoz, a two-time Olympian. Coach Munoz was a member of the Peruvian National team in the high jump for the 1996 and 2000 Olympic Games, and jumped 7'6 1/2″ (2.30mts) in his prime (1995). As of today, he holds the Peruvian National record and South American Record U23 in the high jump and is the former South American high jump champion. Coach Munoz has helped athletes at every level, from youth to Olympians.
Besides coaching at Kangaroo Athletics, Coach Munoz coached at St. Olaf University (2006 - 2008), University of Washington (2003-2004) and Rice University in Houston (2016).
As a coach, he has coached and mentored 1 Olympian, 1 Asian Champion, 1 U.S. Team Member, 2 U.S. Olympic Trials Qualifiers, 20 NCAA All Americans, and state High School champions from the following states: MN (multiple), WI (multiple), MI, IL (multiple), GA, TX (multiple), IA (multiple), WA, NE, LA (multiple), IN, ID, MO, SD, ND, and AL, along with many state qualifiers in several other states.
He also contributed to the USATF Coaches Association Magazine, Technique for Track and Field and Cross Country, with an article distributed to all HS and College Track and Field programs across the U.S. entitled, "New heights: How to teach the basics of high jump" (April 2009).
Besides holding the Peruvian national high jump record, he still holds the U23 South American high jump record (all time area record for U23) with 7' 6 1/2" (2.30mts).  He was a finalist at the world junior championships in Seoul, Korea (92), and has competed internationally in every continent except Africa. He competed in the following international competitions as a member of the Peruvian national team:
Olympic Games (IOC)
in Atlanta, USA (96) and Sydney, Australia (00).
IAAF World Championships
in Stuttgart, Germany (93).
IAAF World Indoor Championships
in Barcelona, Spain (95).
IAAF World Junior Championships
in Seoul, Korea (92).
PanAm Games
in Mar del Plata, Argentina (95).
PanAm Junior Championships
in Kingston, Jamaica (91) and Santa Fe, Argentina (89).
Ibero American Championships
in Rio de Janeiro, Brazil (00) , Mar del Plata, Argentina (94), and Seville, Spain (92).
South American Championships
in Manaus, Brazil (95) , Lima, Peru (93) , Manaus, Brazil (91).
South American Games
in Valencia, Venezuela (94) and Lima, Peru (90).
South American Junior Championships
in Lima, Peru (92), Asuncion, Paraguay (91), Bogota, Colombia (90), and Montevideo, Uruguay (89).
South American Youth Championships
in Cuenca, Ecuador (88).
Bolivarian Games
in Cochabamba, Bolivia (93).