Kangaroo Athletics (Kangaroo Track Club)
pre-season training 2016-2017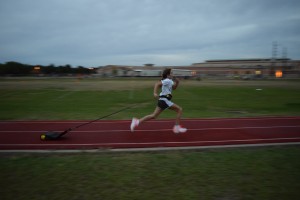 On December 5th, 2016 we will be starting the pre-season training for the 2017 track season  (Club Indoor, Middle School and High School season).
The jumpers (high, long and triple jumpers) will be training 2 times a week (Monday and Wednesday from 6:30pm to 8:30pm) and some weekends (when camps are offered) until their school season starts.
In the high jump training program / long and triple jump training program, the athletes will be working on speed, strength, conditioning, balance, coordination, plyos, and technique that are specific and applicable to their event (high jump, long, jump or triple jump).
The training group is for serious jumpers by invitation only (no more than 8-10 athletes) and all jumpers must be USATF Kangaroo Track Club athletes for the 2017 season. If you are interested in an invitation, please send us an email. Please do not forget to visit our testimonials page,alumni page and before and after video gallery page.
Program Instructor: Kangaroo Track Club coach Hugo Munoz is a two-time Olympian. Coach Munoz was a member of the Peruvian National team in the high jump for the 1996 and 2000 Olympic Games, and jumped 7'6 1/2″ (2.30mts) in his prime (1995). He was also the South American high jump champion in 1994. He held the national record in the high jump for more than 20 years and still holds the South American high jump record U23 (area record). Coach Munoz has coached at University of Washington in Seattle, WA (2003-2005) and at Rice University in Houston, TX (2015-2016). Since 2005 he has been the coach, founder, and program director at Kangaroo Athletics where he has coached and mentored athletes at every level, from youth to Olympians.

For questions, please contact us by email or call us at (952)292-8226