Kangaroo Athletics High Jump
Online Training / Workout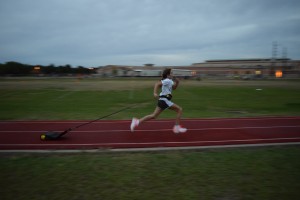 The KTC Online training / workout program is an Olympic class, custom high jump program / workout, that is personalized, based on the jumpers lifestyle, training needs, goals, and location, driven by the Train Heroic platform.
The athlete will receive via the Train Heroic Platform a world class training / workout program designed by Coach Hugo Munoz OLY. The program will not only have the high jump custom workout, but a video of how to perform the exercise.
Coach Munoz will have an initial phone consultation with the athlete in order to fully understand his/her needs and what they have access to for training (weights, equipment, track, hills etc…). He also will talk about nutrition, lifestyle, rest, intensity of the training. The athlete and Coach Munoz OLY will communicate by email during the online training period (up to 2 emails per week). In pre-season the athlete will receive a total of 12 weeks of training, 3 mesocycles of training blocks (4 weeks = 1 mesocycle of training). In season the online training will be organized depending on competition dates of the athlete.
The online high jump training / workout program has limited space and KTC jumpers will take priority (camps and private lesson clients). This program will cover all aspects of the physical training for the high jump, for more in depth technical advice please come to our camps / private lessons or do a technique video analysis session. For more information please email us at kangarooathletics@gmail.com or call us at (952)292-8226 Please do not forget to visit our testimonials page,alumni page and before and after video gallery page.
Cost of the online high jump training / workout program:$500
How to register for the Kangaroo TC online high jump training / workout program?
Step 1: Please pay online (PayPal Button) and send us an e-mail at kangarooathletics@gmail.com so we can send the waiver and the questionnaire/assessment.
Step 2: Set up a time to have a video conference to talk about the assessment and the plan.
Step 3: Let's train!
NOTE: Due to the limited space of the program, there will be no refunds or exchanges under any circumstances once the athlete has been accpeted into the program.
Program Instructor: Kangaroo Track Club coach Hugo Munoz is a two-time Olympian. Coach Munoz was a member of the Peruvian National team in the high jump for the 1996 and 2000 Olympic Games, and jumped 7'6 1/2″ (2.30mts) in his prime (1995). He was also the South American high jump champion in 1994. He held the national record in the high jump for more than 20 years and still holds the South American high jump record U23 (area record). Coach Munoz has coached at University of Washington in Seattle, WA (2003-2005) and at Rice University in Houston, TX (2015-2016). Since 2005 he has been the coach, founder, and program director at Kangaroo Athletics where he has coached and mentored athletes at every level, from youth to Olympians.

For questions, please contact us by email or call us at (952)292-8226